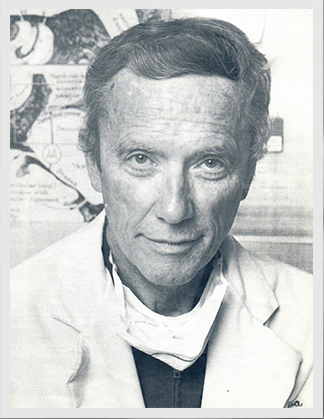 Dr. John Shea, Junior, was born in Memphis, Tennessee in 1924. His father, Dr. John Shea, Senior, was a renowned ear, nose, and throat specialist. The younger John Shea attended Notre Dame for his undergraduate studies, but after less than two years, at age nineteen, was accepted to Harvard Medical School. It was 1943 and doctors were needed for the war effort. He graduated with honors and began residency at the Massachusetts Eye and Ear Infirmary, where he finished in 1951.
The following year, his father passed away, Shea came out of the Navy Medical Corps, and began practice. He took a special interest in otology, and in 1954, went to Vienna to study papers written in German in the nineteenth century about otosclerosis, a disease that causes progressive stiffening of the tiny stapes bone in the middle ear. Surgical attempts to cure this disease had been abandoned and condemned by the medical community more than fifty years earlier. He developed the idea for an artificial stapes to replace the diseased one, at a time when artificial materials were not yet being used in the body. Upon returning to Memphis, Shea enlisted the help of a young engineer, Harry Treace, to design the world's first stapes prosthesis.
Shea performed the first successful stapedectomy in May 1956, and the patient regained hearing. The operation proved to be a vast improvement over "fenestration", the accepted treatment for otosclerosis at the time. Others patients followed in droves. Shea presented his results to the medical community, but the procedure was initially criticized as reckless and dangerous. The elegance and effectiveness of stapedectomy was evident, however, and it was eventually embraced as the definitive surgical treatment for otosclerosis. Patients came to Memphis by the thousands to have a stapedectomy by Dr. Shea, doctors came to watch him perform it, and it is now accepted and taught worldwide.
Shea made many other contributions to otology over the years, including underlay tympanoplasty, middle ear prostheses, surgical drills and instruments, and the refinement of intratympanic perfusion for the treatment of Meniere's disease in the early 1990's. During his career, Shea performed over forty thousand ear operations, of which more than fifteen thousand were stapedectomies. His accomplishments, awards, and honors are numerous, including induction into the Royal College of Surgeons in England and The Australian College of Surgeons. In September 1962 he was featured in Life Magazine as one of "The New Breed – the outstanding 100 men and women in the United States under 40."
In 1967, Shea moved his practice to the old Memphis Eye and Ear Hospital at 1060 Madison Avenue, which his father had helped to establish with a group of doctors some forty years earlier. He also created the Shea Clinic Foundation, the charitable arm of the Shea Clinic, dedicated to teaching and research. Always the innovator, Dr. Shea built the present-day Shea Clinic at 6133 Poplar Pike in 1985, which was the first outpatient surgery center licensed in the state of Tennessee. The John Shea Memorial Otology Workshop and Temporal Bone Dissection Course was created with a gift to The University of Tennessee from that foundation. Dr. Shea also served as a clinical professor in the Ear, Nose and Throat departments of the University of Tennessee, the University of Mississippi, the University of North Carolina, and Tulane University.
Dr. Shea was married to Lynda Lee Mead, Miss America 1960, for fifty years until he passed away in 2015 from natural causes at the age of 90. He had five children, two of whom followed in his footsteps and became otologists, his oldest son, John J. Shea, III, MD, FACS, who worked at the Shea Clinic from 1986 until 1997, and his middle child, Paul F. Shea, MD, FACS, who joined the Shea Clinic staff in 2002. Additionally, Dr. John Shea's first cousin, Martin Coyle Shea, MD, was also a prominent otologist in Memphis. In a career lasting more than sixty years, Dr. John Shea, Jr. revolutionized the treatment of deafness, restored hearing to tens of thousands of patients, and helped establish Memphis as a world-renowned medical center. His remarkable legacy lives on at the Shea Clinic, which continues to grow and thrive into the twenty-first century as a leading center of excellence and innovation in otology and otolaryngology.